Electric Universe Conference to Kick Off January 6 in Las Vegas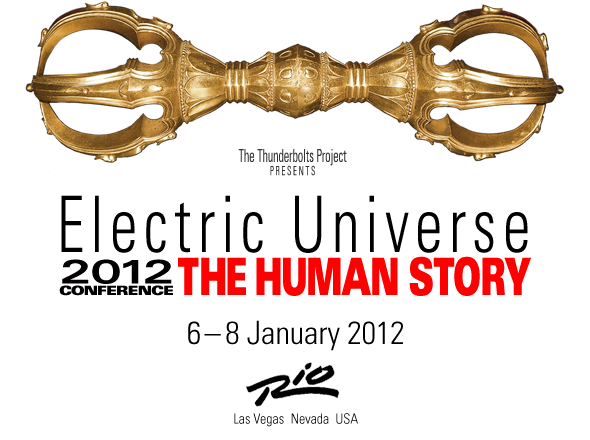 Annual Gathering Debuts with The Human Story
Please join us in a three-day journey through the Electric Universe. Explore with us the unified underpinnings of the natural world.
Witness how horizons expand through interdisciplinary collaboration and synthesis. Discover electric patterns repeating themselves at all scales, from the tiny world of the atom to the far reaches of space. Consider as well the electricity of life and the role of frequencies and resonance in biological systems. See how electricity helped researchers penetrate the great mysteries of the past, the origins of mythic archetypes and symbols, and the roots of cultural anxiety.
We have chosen as our symbol for the conference the primordial cosmic thunderbolt: Sanskrit [
vajra
], Tibetan [
dorje
], and Japanese [
kongō
]. We did so because, as a matter of record, it is this enigmatic "weapon of the gods" that bridges ancient worlds and the leading edge of plasma science.
Join Wallace Thornhill, Donald Scott, David Talbott and a full complement of Thunderbolts Project speakers in launching a new year of the Electric Universe—an unprecedented event that you will not want to miss.
* * * * *
To register, please visit the main conference page and click the [Register] button at the bottom of the page.
http://www.thunderbolts.info/wp/events- ... man-story/
To offer or request help with ride sharing, room sharing, travel to/from airport, train or bus terminals or other logistics, feel free to utilize the logistics thread (below):
http://www.thunderbolts.info/forum/phpB ... 11&p=58205
© 2012 The Thunderbolts Project. All rights reserved.